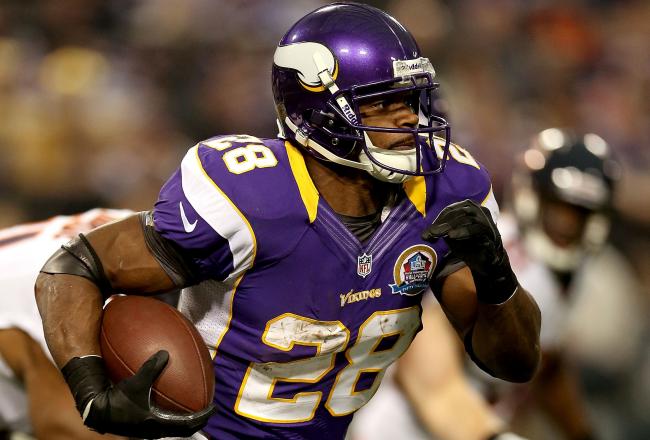 Adrian Peterson and his near record season
The Super Bowl is just about a week away which will close the 2012 NFL Season. A lot of memories and craziness happened during the year. To quote the great Vince Lombardi, a lot of things made me say "What the hell is going on out here?" If you forgot anything major that happened, this is where I'll remind you. Let's start off first with the truly unbelievable return of Adrian "AD" Peterson. He defied modern science with his return from a gruesome ACL injury last Christmas Eve in Washington (Coincidence RG3 also tore his ACL on that sorry excuse of a field?). Peterson finished 9 yards short of the single season record for rushing set by Eric Dickerson. I love AD and hope he continues his fierce running style throughout the rest of his career. One of my all-time favorite players.
There was another record breaker in the form of a wide receiver who is in reality a transformer. Calvin "Megatron" Johnson set the single season receiving record passing the G.O.A.T. Jerry Rice's mark. Although Calvin somewhat disappointed me in fantasy, he still had an unbelievable season. Three out of the five rookie QBs taken in last year's draft started their first postseason game this year and put the rest of the NFL on notice and to quote Bob Dylan "times are a changin'". RG3 and Russell Wilson went head to head in the Wild Card round and put on a show until RG got injured. Andrew Luck already looks like he has 4 or 5 SuperBowls written all over him. Few more to touch on...the emergence of Colin Kaepernick in San Fran really caught everybody by surprise. People knew he could run but his arm is as good as any QB in the NFL. Good move by Harbaugh switching to the Kaep.
Chuck Pagano and interim coach Bruce Arians
Last but certainly not least, the way the entire nation and NFL community supported and rallied behind Colt's head coach Chuck Pagano was truly the inspiration all year for everyone. A feel good story that nearly every person in the world can relate to. Well done by everyone. Oh yeah, I forgot the now infamous "Fail Mary" play in Seattle thanks to those guys who pretended to understand football (The NFL dropped the ball with those replacements, no Shane Falco that's for sure). I hope I wasn't the only fan happy to see the gun-show Ed Hoculi back on the field.
As far as the whole Manti Te'o thing goes...uhh...yeah just literally the most bizarre thing I really have ever heard. But if I'm going to be honest as I always am with these things, he had to have known this girl was fake. After that "emotional" win against Michigan St. (I understand he lost his grandmother that day which must have been difficult but the focus was on his girlfriend for most of the broadcast) there was never a mention of a funeral or Te'o missing any sort of time to deal with his losses. Deadspin.com did a great job reporting the different dates that were the reported death of his girlfriend as well. Regardless, something fishy was going on and Te'o simply will never look good in this situation. He will be remembered as the doofus who bought into a game of Catfish or the doofus who killed an imaginary person for personal gain. Will we ever know the truth? Most likely not. But people will always have their doubts, myself included. Truly, an unbelievable story.
To stop boring myself and you the reader, I now present Mock Draft #2...by the way I saw the stats of page views and I was close to 200 on my first mock. Trust me, I really appreciate anyone who takes the time to read this. Thank you! Ok draft mode.
1.) Kansas City Chiefs: Luke Joeckel OT/Texas A&M In my first mock of 2013 I said there was no clear cut #1 overall pick. The more and more I read and view other "expert" mocks, I continue to see Joeckel atop the board. Obviously a lot will change and new Chiefs GM John Dorsey is already on record saying they will draft the best player available. Do they view that as Joeckel or perhaps a QB? Only time will tell.
2.) Jacksonville Jaguars: Bjoern Werner DE/Florida State There is too much upside here for the Jags to pass on. With new head coach Gus Bradley, the mastermind behind the best defense in the league last season in Seattle, he will need to improve this defense in order to make his team better as a whole. Werner is the first piece of that puzzle and will be a career Jaguar if they handle him the right way.

3.) Oakland Raiders: Damontre Moore DE/Texas A&M I moved up Moore to #3 from #19 because of, again, the upside. I previously had Werner to the Raiders but Moore is the next best DE in this draft and could wind up being the top DE. Workouts both at the combine and pro-day will ultimately determine if moore is a top 3 or top 15 pick.

4.) Philadelphia Eagles: Chance Warmack G/Alabama After watching some highlights and looking at some stats, Warmack blew me away as the best lineman in this draft. I know I have Joeckel going #1 but that is because he is at a premium position. Chip Kelly ultimately decided to take the leap of faith and bolt for the NFL (smh as a huge Ducks fan, c'mon Chip). He will need an offensive line that is tremendous at run blocking, hence the Warmack selection. The biggest question is whether or not Michael Vick will be the QB to run that offense. If not, this pick will most likely change in the future.

5.) Detroit Lions: Dee Milliner CB/Alabama The Lions really were a puzzling team this past season. Calvin Johnson had a record setting season and were an explosive offense. Their defense, which was supposed to be one of the most improved in the league, was at best mediocre. One position that has plagued this team for years has been CB or even the secondary as a whole. I think the Lions may address that in this draft heavily. They have talent and should not be picking in the top 5 much longer.

6.) Cleveland Browns: Barkevious Mingo OLB/DE/LSU With Ray Horton coming in as the DC, the Browns must find good talent to fill his 3-4 system. Arizona's defense was overlooked last season after going on the awful losing streak after starting 4-0. Horton has a good football mind and can cause a lot of problems for opposing offenses. Mingo is an ideal 3-4 OLB and would fit well in Cleveland. His quickness and ability drop into coverage or put his hand down to rush also make him desirable.

7.) Arizona Cardinals: Eric Fisher OT/Central Michigan The more I thought about it and after really watching a lot of highlights of the QBs in this class, it is conceivable that no QBs will be taken in the first round. Teams for sure recognize the lack of talent at the most important position this year and may wait and improve in other areas. This is the case for Arizona. Bruce Arians takes over and he will need to find his QB fast. Whoever that QB is will need to be protected and Fisher is a quality LT. The Cardinals O-Line last was bad. I mean bad.

Cordarrelle Patterson
8.) Buffalo Bills: Cordarrelle Patterson WR/Tennessee This is a player I think Bills fans should watch during the combine and other pre-draft events. His size (6'3" 205lbs) is what most Bills fans a clamoring for. A big, physical receiver who can just go get it. I'm really interested to see what he does at the combine. His name is shooting up boards and a lot of mocks peg Patterson at this slot. Not just Bills fans but the entire Bills organization is seeing what a young WR with size and speed can do for a team (AJ Green, Julio Jones). This pick only makes too much sense. Like I said at the Arizona pick, reaching for a QB in the 1st round will only lead to further ineptitude.
9.) New York Jets: Kenny Vaccaro S/Texas Another name shooting up boards is Vaccaro. He comes from DB U at Texas and is a very polished player. Some fine tuning through good coaching can turn this very good player into a great player. I don't believe LaRon Landry or Yeremiah Bell will be back for the Jets next season so safety will be a major position of need. Along with QB, but that has already been discussed. It kills me to put a Longhorn on the Jets.
10.) Tennessee Titans: Star Lotulelei DT/Utah This pick remains the same, one of two in my top 10 to stay the same. It just makes sense. No other team in the top is really desperate for a plug on the interior D-Line. Lotulelei is just that. Tennessee was no good against the run last year and need to find ways to get to the QB. Pressure up the middle will help guys like Kamerion Wimbley and Zach Brown get to the QB more often.

11.) San Diego Chargers: Justin Hunter WR/Tennessee Two Volunteer WRs taken in the top 11 picks. How was that team not better? Anyways, the Super Chargers were decimated by injury to their WRs last season. Other than Antonio Gates, they have no true threat to go over the top to. Hunter has size but has been known to take plays off. Something worth noting during the pre-draft process.

12.) Miami Dolphins: Robert Woods WR/USC So he goes from being a Bill and loved by Bills fans to a Dolphin and loved by no one. Woods is a supremely talented player that can help Ryan Tannehill develop into a better QB. When Brian Hartline is your number one wideout, you know it's time to upgrade. Woods will go in the top 15 in my opinion.

13.) Tampa Bay Buccaneers: Johnthan Banks CB/Mississippi State Player changes but the position stays the same. The Bucs need to add players to their secondary even if they end up being a depth player. The more they draft the better chance they have of hitting one. Banks is not the most talented CB but has decent size and has great cover skills. Something pretty much every Buccaneer did not have last year in the defensive secondary.

14.) Carolina Panthers: Jesse Williams DT/Alabama The Panthers have a good offense with Cam Newton running the show. They still need to get over the hump defensively. Number one pick last year Luke Kuechly was a stud at middle LB for the team last season. Now they need a player to fill the middle of their defensive line. Williams doesn't have the quickness a lot of DTs possess to get off the ball but he certianly has the raw power. Rumored to be repping 600+lbs on bench. Absurd.

15.) New Orleans Saints: Jarvis Jones OLB/Georgia There is a growing concern surrounding Jones about his longevity and ability to stay healthy. According to some NFL Scouts (info from rotoworld.com) Jones was told he should retire from football because of a chronic back problem. This could be a major red flag for arguably the best defensive player in this draft. Regardless, the Saints need a stud defender and if Jones falls to 15, this has to be his spot.

16.) St. Louis Rams: Oday Aboushi OT/Virginia The Rams need to to find a player along the offensive line that can control the game. Aboushi has good size and can move very well. He needs to improve his overall strength but the Ram are getting a solid player. Sam Bradford has yet to make his mark on the NFL and perhaps with a solid line, he may just do that.

17.) Pittsburgh Steelers: Manti Te'o LB/Notre Dame The free fall ends at this pick. Now, I didn't have Te'o falling this far simply because of the "hoax", but it was based more on seeing him play in a few games against better talent. Sure he flourished against Wake Forest and Boston College but going against other teams with better offensive players, he sometimes looked lost and was getting pushed around. Best example was against Alabama in the title game. Most of those guys are NFL ready linemen which means Te'o may not be ready just yet for the NFL. Still a quality player, just falling down a bit.

18.) Dallas Cowboys: Sam Montgomery DE/LSU It was clear this past year that DeMarcus Ware is feeling the effects of constantly hitting offensive linemen year and year out. Normally on the field in every passing situation, there were times this past year where Ware had to take plays off. The Cowboys need to find a player that can speel Ware while not losing a beat. I'm not convinced yet Montgomery can be that player but a good combine and pro day will help his cause.

19.) New York Giants: Jordan Poyer CB/Oregon State Although the Giants spent a first round pick 2 years ago on Prince Amukamara, they still need to find a corner who can at the very least stay healthy. It seems every year the Giants have to scramble to find healthy DBs in every game. Even if this pick is for depth, it will be worth it for Big Blue. Poyer is undersized but is still a quality player that can fill in where needed.

20.) Chicago Bears: Jonathan Cooper G/North Carolina Once again the Bears find themselves with a mess on the offensive line. The hiring of Marc Trestman makes Jay Cutler a million times better. He worked with guys like Rich Gannon and Bernie Kosar and made them better. Cutler will get the teaching and now more time to throw with Cooper in the mix. In my opinion, he is the more athletic player compared to Chance Warmack.

21.) Minnesota Vikings: Keenan Allen WR/California The Vikings are really one solid player away from taking the next step to becoming a great team. Adrian Peterson, for my money, is the best RB in the league. With a solid running game Christian Ponder has shown he can win games. By adding a weapon like Allen, this offense goes from ground and pound to a balanced attack which will ultimately get them more wins and a deeper playoff run.

22.) Cincinnati Bengals: Ezekiel Ansah DE/BYU Ansah is a riser at this point. Once thought to be a 3rd round pick, Ansah has crept into the first round in many drafts. He went to BYU which has produced some good football players in the past. Cincinnati has an underrated defense. By adding a pure pass rusher, this defense could challenge for the top spot in the NFL next season.

23.) St. Louis Rams (from WSH): Barrett Jones C/Alabama The Alabama product played nearly every position on the offensive line while in college and won the nation's top award for each position. That should tell you the type of player Barrett Jones is. Although he will be listed as a center in the draft, Jones can play anywhere. I think his versatility will be very appealing to NFL clubs, so he may go even higher in the first round. For now, I'll continue the trend of the Rams sticking with the offensive line picks.

24.) Indianapolis Colts: Kevin Minter LB/LSU Like I said in my first mock, the Colts were very surprising this season. It helps to have a franchise QB but the Colts will be a dangerous team moving forward. Adding a great defender to cover the middle of the field like a Kevin Minter makes the Colts even more dangerous. Their defense was not all that bad last season but can still use an extra push to get them over the hump.

25.) Seattle Seahawks: Zach Ertz TE/Stanford This pick goes unchanged. The only difference is Notre Dame TE Tyler Eifert is also still on the board. The main reason is because Eifert tended to struggle while in run protection. There is no question Eifert is a tremndous receiver but needs to learn to be a better blocker. Ertz is an all around good TE. Not the best prospect at the position to be in a draft but is for this season.
26.) Green Bay Packers: Desmond Trufant CB/Washington The Packers still boast one of the best fofenses in the NFL. Discount Double Check always helps. They most likely will be letting free agent WR Greg Jennings walk so WR could be the position to target here. Offensive line is also a concern. But I went DB because the Packers seem to lose a step in the secondary every year. Charles Woodson isn't getting younger. Trufant could step in and fill a need from day one.

27.) Houston Texans: DeAndre Hopkins WR/Clemson The Texans are not far away from being the dominant team many people believed they were this season. Andre Johnson isn't getting younger but he can still put up incredible numbers. They need another weapon on offense to help Johnson and Arian Foster. Matt schaub probably wouldn't mind a speedster either. Hopkins is a good fit for the Texans offense.

28.) Denver Broncos: Sheldon Richardson DT/Missouri The Missouri Tiger finds a home in the middle of the Bronco defense. Peyton Manning can still play at a high level but could use more defense. Although the Broncos were a good defense this year, they're weakness was up the middle. There is no question they can rush the passer but they need a big presence in the middle. Richardson is still a name I believe can go top 15 if his workouts go well.

29.) New England Patriots: Eric Reid S/LSU Quick name the Patriots starting safeties...yeah it is knd of difficult. Reid can step in right away for this team and make a major upgrade at this position. If Baltimore exposed anytinhg in the AFC Championship it's that the Pats secondary is very beatable. Flacco had no problem picking his spots on a consistent basis. A strong offense can only take you so far Mr. Belichick.

30.) Atlanta Falcons: Eddie Lacy RB/Alabama The 49ers showed that the Falcons are truly a one dimensional team in the NFC Championship game. There was no run game presence what so ever in that game which led to Matt Ryan trying to prove he can win the big game. Lacy is a big time RB and will need a strong workout to prove he is worthy of a first round pick. I also believe Michael Turner's days in the ATL are numbered.

*31.) Baltimore Ravens: Matt Elam S/Florida This pick remains the same from mock draft 1. Like I said there, the biggest question the Ravens will need to address is drafting Ray Lewis' replacement or Ed Reed's replacement. I choose the latter. Props to this team for riding that emotional high their inspirational leader, Ray Lewis, has given them. Awesome story and yet another remarkable playoff run. Beating Andrew Luck, Peyton Manning, and Tom Brady in one post season. Wow.

*32.) San Francisco 49ers: Johnathan Hankins DT/Ohio State My pick to win the Super Bowl next week are these 49ers. What a job by Colin Kaepernick to get this team to the promised land. Think back to last season too, this should have been the matchup had it not been for two really boneheaded plays (Kyle Williams 2 punt reutrn fumbles, Lee Evans dropped game winning touchdown). Regardless, the champs go with beef up the middle on their defensive line with the last pick of the first round.
* - Based on how I believe the rest of the postseason will turn out...
33.) Jacksonville Jaguars: Alec Ogletree OLB/Georgia
34.) Kansas City Chiefs: Mike Glennon QB/North Carolina State
35.) Philadelphia Eagles: Geno Smith QB/West Virginia
36.) Detroit Lions: Lane Johnson OT/Oklahoma
37.) Cincinnati Bengals (from OAK): Arthur Brown OLB/Kansas State
38.) Arizona Cardinals: Tyler Wilson QB/Arkansas
39.) New York Jets: Justin Pugh OT/Syracuse
40.) Tennessee Titans: Larry Warford G/Kentucky

Ryan Nassib

41.) Buffalo Bills: Ryan Nassib QB/Syracuse This makes too much sense right? He knows the offense, knows the coaching staff, this has to be the guy they will target in April. Is he a franchise QB? Only time will tell but from what I have seen, he has a tremendous arm, is athletic enough to escpae pressure and can read a defense as good as any. The jury is still out on whether or not he will be able to cut it in the NFL but I am willing to take that chance and I believe the Bills are too.
42.) Miami Dolphins: Dion Jordan DE/Oregon
43.) Tampa Bay Buccaneers: D.J. Fluker OT/Alabama
44.) Carolina Panthers: Xavier Rhodes CB/Florida State
45.) San Diego Chargers: John Simon OLB/Ohio State
46.) St. Louis Rams: Tavon Austin WR/West Virginia
47.) Pittsburgh Steelers: Matt Barkley QB/USC
48.) Dallas Cowboys: Tyler Eifert TE/Notre Dame
49.) New York Giants: Bacarri Rambo S/Georgia
50.) Chicago Bears: Nico Johnson LB/Alabama
51.) Minnesota Vikings: Alex Okafor DE/Texas
52.) Cincinnati Bengals: Giovani Bernard RB/North Carolina
53.) Washington Redskins: Khaseem Greene OLB/Rutgers
54.) Indianapolis Colts: Andre Ellington RB/Clemson
55.) Seattle Seahawks: Sharrif Floyd DT/Florida
56.) Green Bay Packers: Terrance Williams WR/Baylor
57.) Houston Texans: Kyle Long OT/Oregon
58.) Denver Broncos: David Amerson CB/North Carolina State
59.) New England Patriots: Quinton Patton WR/Louisiana Tech
60.) Atlanta Falcons: Jelani Jenkins OLB/Florida
*61.) Baltimore Ravens: Travis Frederick C/Wisconsin
*62.) San Francisco 49ers: Dustin Hopkins K/Florida State
Yes, that is a kicker with the final pick of round 2. The more I thought about it, the Niners don't need a ton of help at one position really except kicker. Why not ensure you get the best kicker in the nation. I don't know I'm probably crazy with that but I honestly think that would be a smart pick. Anyways I digress. I hope you enjoyed Mock Draft #2. Let me know what you think! My next draft will feature round 3 picks with the last pick I do being the Bills. It will progress from there including some trades along the way. So again thanks for reading and I'll talk soon. To quote Brady Quinn, "Now I'm Done."